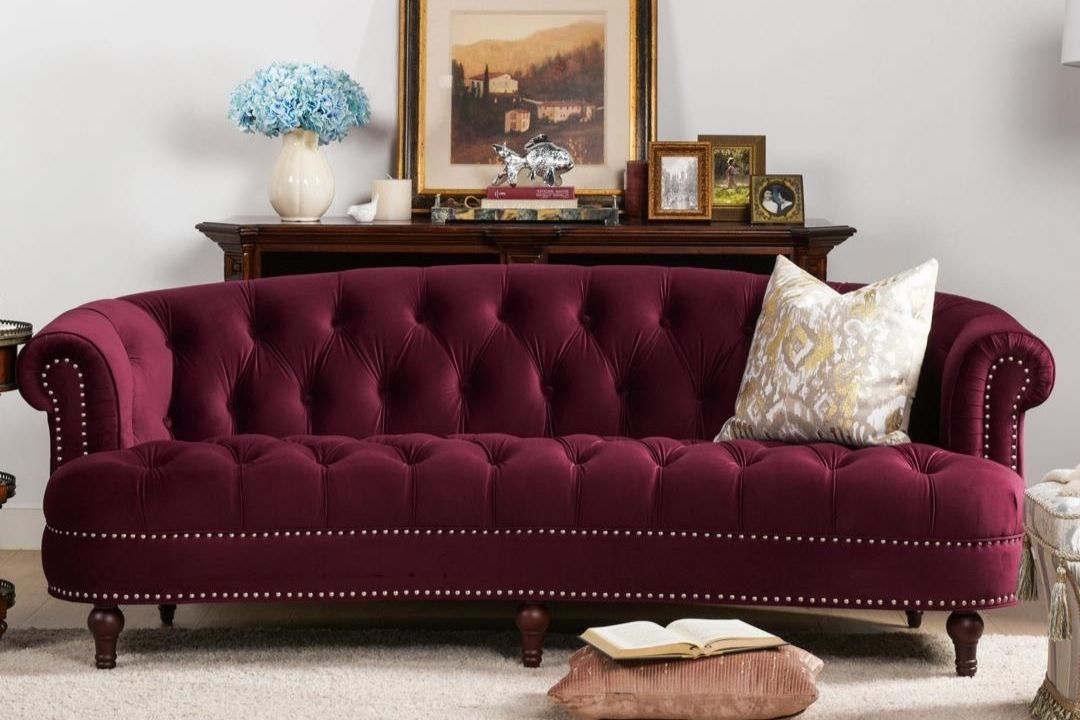 The Chesterfield sofa is a popular piece of furniture in homes and offices. They are designed in several styles to fit a specific setting. It could be a high back or wing chair Chesterfield sofa. Additionally, Chesterfields are a historical piece of furniture with so much attention to detail as it is classy, stunningly vintage, and elegantly robust.
Luxury leather stretching over a vibrant body, deep buttoning, and a low back and high, roll-top arms are the signature of a premium Chesterfield sofa. Unfortunately, fakes, impostors, swindlers, and tricksters are inundating the furniture market. They are cashing in on the Chesterfield sofa's prestige by not offering the authentic luxury product.
Therefore, you must take great care when buying a Chesterfield sofa in Malaysia. This is what to look for when you want to purchase a high-quality Chesterfield sofa.
a. Frame
The frame is your Chesterfield sofa's skeleton that helps it keep its form and shape. The frame offers support for the other parts of the sofa. Therefore, it must be both strong and durable.
In Malaysia, a high-quality Chesterfield sofa has its frame made of beech hardwood, with chunkier rails to withstand everyday use stress. Beech hardwood is used because of its straight grain, which gives the sofa extra strength for a lifetime of use.
b. Cushion Filling
The quality of suspension in a Chesterfield sofa, along with the cushion filling, is one of the factors that will decide how comfortable your piece will be and how long it will stay that way.
Several suspension structures include coiled spring units, high-grade Elastobelt webbing, and serpentine springs found in Chesterfield sofas.
For Chesterfield sofas, several cushion fillings are commonplace, including foam, polyester fibres, and feathers. A vital aspect of the piece is the filling, as it gives the majority of the warmth and protection for the person seated.
With more than enough volume to make the sitting experience pleasantly relaxing, the use of other fillings such as feathers and polyester fibres can be extensive. Feathers and fibres are either used together or with foam to make up high-quality hybrid cushioning.
c. Suspension
A high-quality Chesterfield will have its suspension system made with top-grade material and is fit for purpose. Different Chesterfield types need different types of suspension systems. It would be possible for only an experienced artisan to gauge what is required and what amount of resistance it can offer.
Adding the right amount of springs under the cushioning or using premium webbing will guarantee that the suspension will withstand the rigours of day-to-day use without breaking.
d. Upholstery
The material that is upholstered in your Chesterfield is highly indicative of the sofa's quality. Not only does the upholstery influence the aesthetic appeal of the piece, but it also affects comfort and longevity.
A leather Chesterfield sofa provides a classic look. Therefore, it's essential to look into luxury materials to guarantee that you purchase a quality sofa.
A professional artisan may have applied the leather, who would have hand-tacked it to create a spread and appealing detailing. The leather used will be full hide, not split hide or imitation material, which is of more inferior quality.
Non-leather upholstery fabrics also include wool, tweed, and linen. The best sofas will be coated in fine fabrics from luxury mills. Ask your dealer where the material is sourced from to know more.
e. Detailing
What sets a Chesterfield apart from the regular sofas is the detailing. The detailing on the Chesterfield sofa gives it a distinctive look that has been popular for so long.
All the classic design hallmarks are deep buttoning, attractive studding, and rolled arms, so it makes sense to go into their creation with a lot of care.
What gives the sofa its shape and forms part of its style is the deep-buttoning. The art of deep buttoning is complex, and only experienced craftspeople can complete it to a professional standard.
Each button is positioned precisely, while the downward pressure holds the neat pleats in place. The buttons are secured against the frame firmly to ensure that the iconic effect is held in place for the sofa's lifespan.
In the making of a Chesterfield, studs are primarily used to add detail to the rolled arms and across the sofa's body. There will be hand-tacked studs in a good-quality sofa, each driven through the upholstery and into the framework.
In a Nutshell
A good-quality and an imitation Chesterfield can seem alike at first sight, but you can begin to see the differences that set them apart as you look closely.
We are pleased to have put together this article to help you spot a good-quality Chesterfield sofa in Malaysia and make an informed purchase. For more information, feel free to get in touch with our specialists.