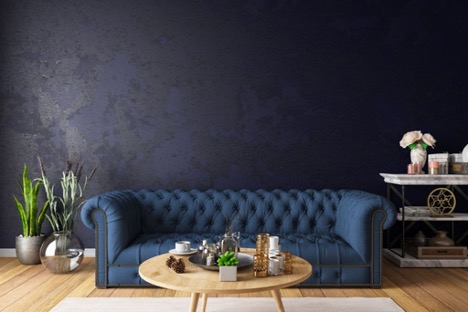 The Chesterfield sofa is associated with style and luxury. This luxury piece of furniture ideally complements a contemporary home library, bedroom, or living room. The Chesterfield sofa can blend seamlessly with your home's decor in Malaysia while projecting an aura of sophistication.
For decades, Chesterfields have been around and provide convenient seating without compromising a home's interior theme. They are the quintessential British sofas, typically made of rich brown fabric. These sofas have been reinvented several times in the last several decades and now come in several various shades, textures, and sizes.
As you read through this article, you will explore the fascinating history behind Chesterfield sofas and the various styles and fabrics you can choose for your home.


1. Where did Chesterfield Sofas Originate?
Chesterfields are considered to have originated from England back in the 18th century. History has it that Phillip Stanhope, the Earl of Chesterfield, a respected writer and politician, ordered the first-ever couch design that would allow him to sit upright comfortably without his outfit wrinkling. Stanhope gifted the sofa to his godson before his passing, and since then, the demand for this iconic piece of furniture has been growing.
Horsehair filled the early models of Chesterfields, and the chairs felt very stiff and awkward. But it was during the reign of Queen Victoria that the couch incorporated more spacious and cosy elements.
At that time, in affluent households and men's clubs, Chesterfields had become extremely popular, and 200 years later, they can easily be considered a truly timeless classic for any modern home.

2. The Sofa of an Empire
Britain continued to claim further territory and colonies across the globe in the late 16th and early 18th centuries, establishing what will be known as the British Empire.
By the late 19th and early 20th century, with nearly a quarter of the world's population under its control, the Monarchy had hit its peak. The British brought their society and fashions with them as boundaries were widened, and they spread their values to the rest of the world.
The British took their beloved furniture, like the leather Chesterfield sofa, with them everywhere they went. This exotic piece of furniture became prevalent in Canada, India, and Australia, where it started to imbue itself as a global style standard.
In Canada, where the style was so popular, people used the word 'Chesterfield' to describe a sofa of any kind, even though it was different from a real Chesterfield.

3. The Contemporary Chesterfield Sofa
Formerly, only the rich could own this piece of furniture; the Chesterfield now enjoys a reputation that has transcended class but maintains the enduring elegance and prestigious air offered by its legacy.
The Chesterfield sofa has been transformed across various styles as fashions have evolved. However, the timeless look remains functional and can fit in almost any traditional or contemporary decoration theme. In short, it's one of the rare pieces of furniture that's never going to go out of style.
There are many choices for those looking to buy a Chesterfield sofa today. While maintaining its timeless look, it can be reimagined to fit a modern home. Nowadays, you can also find the high back Chesterfield sofa in showrooms across Malaysia.
There are various choices for the upholstery to choose from, from textured or vintage leather Chesterfields to neutral linens and cosy wools. You will also find a range of styles that fit your house's needs, such as corner sofas that blend snugly into your room if you have a smaller area, allowing more floor space.
In a Nutshell
When determining a Chesterfield sofa's quality, the filling should contain foam, feathers, and polyester fibres. The filling is the main component of any form of the sofa since it is the defining factor for comfort and support.
For a softer feel, good-quality Chesterfields consist of padding over the frame mixed with varying foam densities. When lying or sitting on the sofa, the foam padding composite shouldn't be detectable. For more information about unique furniture, feel free to get in touch with us.