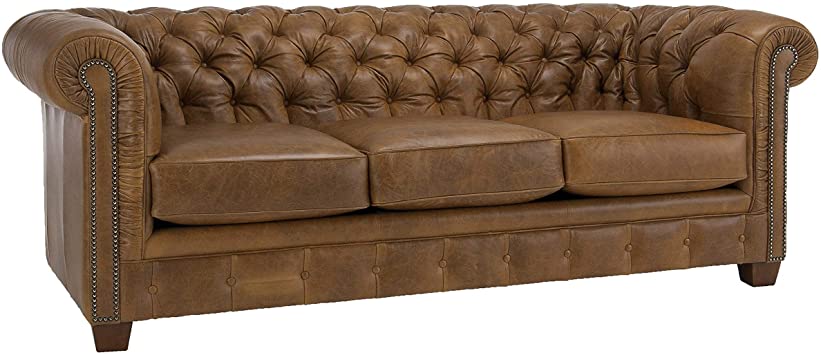 There are a rising number of fake Chesterfield sofas on the market, and if you're not cautious, you may end up paying a lot of money for a fake Chesterfield.
Many sofas are advertised as being made of genuine leather or natural leather. A genuine leather couch, particularly a Chesterfield, is a magnificent and one-of-a-kind buy.
Unfortunately, distinguishing genuine leather from faux leather may be difficult at times. Some leather Chesterfield sofas aren't made of leather. Knowing how to detect a genuine leather Chesterfield couch can help you avoid overpaying.
Pay close attention to the details and thoroughly inspect your Chesterfield to guarantee you are purchasing an original piece. Here's how to tell whether a couch is authentic Chesterfield leather.
1. Gain Insight from the Price
Quality does not come cheap. It's an ancient saying, but it's true. Therefore, expect to spend a substantial amount if you want a genuine, real leather sofa.
Leather processing is a labour-intensive procedure carried out by skilled artisans with years of experience. On the final couch, you should be able to feel and see this. The price tag may provide you with a lot of information about the product's quality.
Genuine leather is usually an excellent investment, but it is seldom cheap.
2. Check the Tags
Take a look at the product labels first. Although it may seem self-evident, a label that reads "faux leather," "leather cloth," or "pleather" indicates that your Chesterfield sofa is not made of genuine leather.
It's difficult to determine if a Chesterfield is an imitation or real leather merely by looking at it. However, the materials used to build the furniture should be listed on the tags and marketing materials.
The chair is genuine if it is made of real leather, nubuck, suede, or coloured leather. Check the labels for yourself rather than taking the seller's word for it.
3. Feel the Sofa
Chesterfield sofas made of leather are soft, smooth, and pliable. The leather has a strong feel to it, and you can see tiny grains in it. A plastic couch that looks like leather is usually overly smooth and very cold.
The surface seems to be too slick and "perfect." Genuine leather has various flaws in terms of look and texture. Look at the furniture thoroughly and trust your senses to see whether your dream chair is the real thing.
4. Smell the Sofa
The smell of leather is unmistakable. People seeking a beautiful, historical, and well-made sofa loves its unique smell. You can't get a synthetic leather couch to smell like genuine leather, so use your nose to be sure what you're purchasing is authentic.
5. Purchase from a Reliable Source
Choose a reputable manufacturer for your genuine leather Chesterfield. You may therefore relax knowing that your couch was made with care using the best materials available. As the popularity of Chesterfield sofas grows, you'll see more versions of this famous design on the internet and in high-street retailers.
Choose a reputable seller with a good track record, and make sure you have a warranty with all the necessary certificates confirming you're getting a genuine leather piece of furniture. Then you can be sure that your Chesterfield is genuine.
6. Trust your eyes (and instincts)
Genuine leather is difficult to imitate, yet many have tried. Because hides are a natural product, no two are alike. Leather that has been handled with expertise and care will still have the distinct hallmarks of this magnificent material.
Scars, strain marks, and bug bites should not be seen as flaws but rather as quality assurance. When you purchase a couch made of genuine leather, you're getting a one-of-a-kind piece.
In a Nutshell
Inspecting the inner layer of a cushion is a definitive test for being certain. A suede-like backing is required for genuine leather. If it's made of cloth or synthetic material, you know what it means.