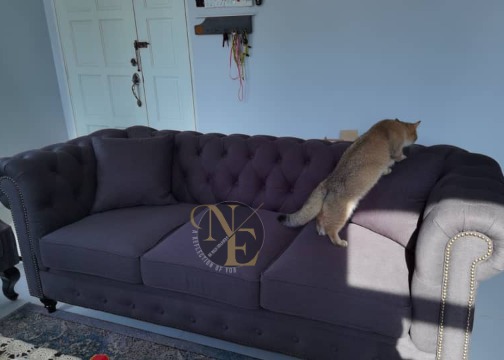 Have you considered how stunning a leather Chesterfield sofa in the centre of your living space, preferably opposite an ornate coffee table, would look? That's one way to incorporate this timeless masterpiece into your home.
Keep reading to learn about more ways to incorporate a Chesterfield sofa in your home.
Traditionally made of leather, chesterfields are also available in various materials, including velvet, tweed, and linen, in a variety of colours and designs.
Chesterfields are extremely flexible and can blend well into various schemes, whether you pick a vintage, reupholster, an older one, or go for a modern design.
Here are eight ways to incorporate a Chesterfield Sofa in your home.
1. Choose a vibrant shade
Choose a bright colour, like a lovely yellow hue, to make your Chesterfield the centre of attraction in your home. Fuchsia, purple, or teal are also hot right now, particularly when matched with the wall colour. It will make your statement piece stand out even more.
2. Combine your Chesterfield with other buttoned furniture
Introduce other buttoned items into the space to provide a feeling of smooth continuity. If your space is open-plan, buttoned upholstered dining chairs or an ottoman, banquette, or stool will serve well.
3. Incorporate it into a mid-century design
You can't go wrong if you surround a design icon with other design icons. They don't have to be from the same period, though.
The Chesterfield's chunky heaviness is the right counterpoint to mid-century furniture's spindly legs. Shutters or blinds will keep the look fresh, as curtains will render the design a bit busy.
4. Match the wall colour
Painting the wall behind your high back Chesterfield sofa the same colour as the upholstery material will help the artwork stand out even further.
Take a swatch to the nearest DIY shop to have an exact paint colour fit. Choosing furniture in various colours and textures for the remainder of the room will prevent the space from becoming too uniform.
5. Go for the industrial look
For an industrial loft vibe, a distressed leather chesterfield is a perfect pick. It looks fantastic from any perspective, making it ideal for open-plan spaces.
Second-hand leather chesterfields in subdued faded colours of grey, blue, or brown, in particular, complement this style – the more battered, the better. Choose bare or painted floorboards and a shabby antique chest or suitcase to use as a dining table.
6. Create a gentlemen's club of your own
It's a look that doesn't seem to be going out of style very fast. With its classic brown leather chesterfield, the gentlemen's club theme is a winner that is impossible to mess up. Stick to autumnal colours like browns, creams, and greens to keep things tonal.
To complete this timeless style, incorporate a few hunting lodge touches, such as an antler mirror or chandelier, a sheepskin rug or fleecy throws, and a pair of traditional armchairs in houndstooth fabric or tartan.
7. Consider symmetry
It's always an amazing sight to put two matching chesterfield wing chairs next to each other. Some might find it a little too structured, but it's the friendliest setup you might have if you want to build a space conducive for discussions rather than watching television.
8. Bring a Chesterfield into your bedroom
You can fit a chesterfield sofa into the corner of a bedroom to add more luxe charm, thanks to various lightweight models. Alternatively, instead of an ottoman, chaise longue, or chest, put one at the foot of your bed.
Final Thoughts
Chesterfield sofas are beautiful and gracious, and it communicates the message of a comfortable and well-organized home more effectively than any other piece of furniture.
It has a variety of personalities and functions and special features such as rolling guns and quilted upholstery. That is why it will improve the appearance of every room and create a distinct presence even in the simplest space.